Wheel Blast Equipment
Gibson Abrasive Equipment offers centrifugal wheel blast systems in many configurations: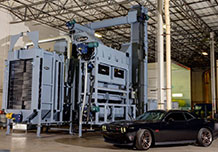 Tumble Blasters from 1.5 Cu. Ft., 200 lb load capacity to 24 Cu. Ft., 3,000 lb capacity.  Spinner Hangers with the working dimension of 12" Dia. x 16" High to 36" Dia. x 60" High Table Blasters from 36" Diameter with 1,000 lb load capacity to 96" Diameter with 10,000 lb capacity Wire Mesh Belt Blasters with belt widths starting at 12" Wide Monorail Blast Systems, Roller Conveyor Blast Systems, and Pipe Blast Systems also available.
Options for all machines include:
Variable Drive Blast Wheels

Rotary Air Wash Media Separators

Automatic Media Replenishment

Cartridge Dust Collectors

In-Line Shot Traps
Download: