Service & Repair Capabilities
Dawson-Macdonald Co., Inc. is a distributor of surface preparation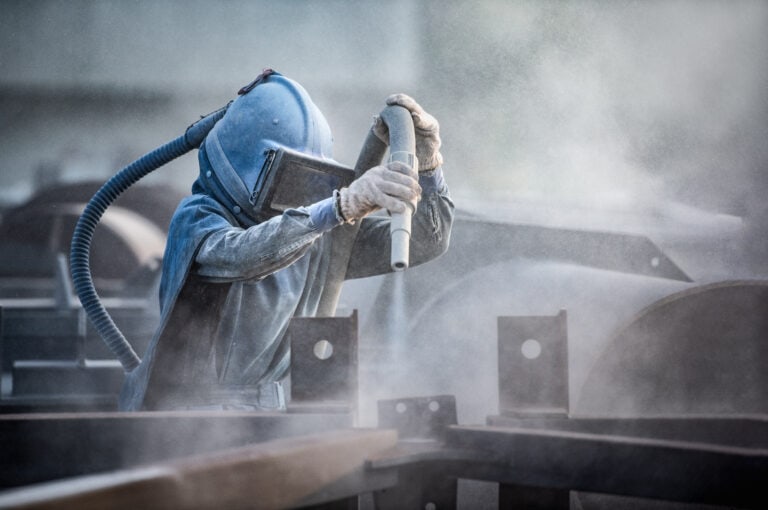 equipment that has been serving the industry for many years. We have a team of knowledgeable experts with in-house capabilities offering shot blast repair services.
We have a fully-functioning mobile service department to service numerous types of equipment. It's staffed with highly skilled and certified technicians to repair shot blast equipment. In addition, we serve a broad range of customers from different sectors. Find out more about our service and repair capabilities.
Fully-Functioning & Unique Service Department
We have different types of repair for all surface preparation equipment, such as air blast, dust collection, shot blast, wet blast, wheel blast, ice blasting, and more. It's mobile and fully functional, and we can handle any repair, service, maintenance, installation, and other services that your equipment may require.
Since we are one of the oldest and largest providers of surface preparation equipment, we have over 100 years of hands-on experience combined. So rest assured that we can handle any repair your equipment may need.
Installs & Services Surface Preparation Equipment of Any Kind
Our team of service technicians is factory-trained and certified. Therefore, they can service and install blasting and industrial air filtration equipment. They have all the necessary capabilities to handle any repairs and find solutions to keep your equipment working 100%.
Furthermore, our team can support and service your system in-house or in the field. We understand that you can't bring the equipment with you, so we can go to your location when needed. We prioritize emergencies to ensure that your equipment works on time without complications.
Competitively Priced Parts are Always Stock
A great benefit to our shot blast repair services and other equipment is that we have all parts in stock. Therefore, eliminating equipment downtime.
Our stocks are competitively priced, and they are all the right components that will work perfectly with your equipment. At the same time, our team's expert technicians are responsible for preventative maintenance and repairs with the available parts.
Your Equipment's Lifetime Partner
We offer a toll-free helpline that allows you to call us whenever to ensure that all your questions about your equipment are answered. Apart from that, ongoing training is available for all our loyal customers.
With our extensive range of services, rest assured that our service department will become your trusted go-to for repairs and services. And as aforementioned, we can handle any type of equipment used in the surface preparation industry.
Let Us Handle All the Repairs & Services for Your Equipment
We offer the highest service and repair capabilities, so you can rest assured that your equipment will be up and running quickly and smoothly in no time.
If you have any questions about our expertise and the products we offer, don't hesitate to contact us. We'll be with you to answer your queries immediately.