A Look at Ruwac Vacuums
Whenever you need to tackle pollution at a workplace or on your property caused by dust and other substances, you need equipment that does a thorough job. Ruwac vacuums have been proven reliable for years now, and they are the preferred option by a majority of industries. Not only do Ruwac vacuums do a perfect job in dealing with dust pollution, but they also have a high-quality design that promises to provide years of dependable service.
Whether you need a Ruwac vacuum for complex or straightforward industrial purposes, you can get one that fits your needs. These appliances have different performance levels ranging from 100 CFM to 650 CFM. These vacuums can be gas, propane, or electric powered. Keep reading for more details.
Check Out Our Ruwac Master Catalog
Advantages
Industrial central vacuum systems offer lots of benefits, including:
Solid Construction
Central vacuum units are made of heavy-duty material, which ensures they last for a long time to come. In fact, with the right maintenance, they can last for approximately 20 years. The motors can last for 800 hours or more in different environments.
Whisper Quiet
You may be familiar with the loud noise produced by portable vacuums, making it impossible to sleep, talk on the phone, or watch television. Central vacuum systems are incredibly quiet, with a rating of about 60 decibels, because the motor is in the basement. They also have built-in noise reduction features.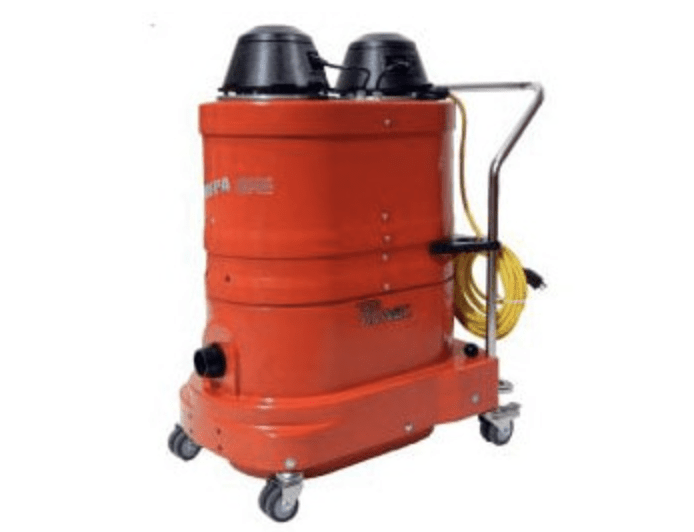 Powerful Suction
Since central vacuum units are larger than standard ones, they have more powerful motors with more suction power. In fact, central vacuum systems have more than double the air watts compared to standard vacuums.
Enhanced Air Quality
Central vacuum units suck out all the dust and allergens from your facility into an area away from your workspace. Even better, you don't have to empty it regularly, so you'll reduce the chances of spreading dust back into your area, which can affect people with asthma or allergies.
Portability
Even if you want to use central vacuum units in a multi-level property, you only need to lift the hose. The models with retractable hoses come with ports that can deliver suction to each room, so there's no heavy vacuum to lug around.
Industry Applications for Ruwac Vacuums
Ruwac has been America's most innovative designer and manufacturer of high-quality vacuum systems since 1985. These systems are applicable across a wide range of industrial applications, from building maintenance and point-of-source extraction to dust removal, manufacturing processes, explosion-proof safety, and more. 
Ruwac vacuums can be used for general housekeeping applications or within your particular workspace. Some applications include:
Powder Coating:

 After a powder-paint spray job, you can use a Ruwac vacuum to collect all the particles from the powder booth, whether on your floors, walls, or ceilings.

Concrete Dust:

 These vacuum units help minimize exposure to concrete dust that might be harmful while cleaning a job site, thereby increasing workers' safety.

Plastic Dust:

 Ruwac vacuums also eliminate plastic dust inside buildings, especially on the floor, which can damage lung tissue.

Grains:

 You can also use these certified explosion-proof vacuums to eliminate grains in your workplace.

Wood Dust: 

Dust created when different tools cut or shape wood can also cause adverse medical conditions, but a Ruwac vacuum will eliminate all substances.

Abrasive Dust: 

Abrasive

dust doesn't break easily, but a Ruwac vacuum will eradicate even these fragments. 

Large Chips / Debris: 

Even when dealing with large chips, the strong suction on a Ruwac will deliver a perfect outcome.

Fine, Dry Dust:

 Ruwac can safely collect and contain fine dust no matter the size of your workplace.

Food Ingredients: 

Whether you have a pizza shop, a bakery, or another type of food establishment, you need a Ruwac vacuum, because it will pick up all the tiny particles on the floor.

Nutraceuticals: 

Nutraceutical manufacturers use Ruwac vacuums to efficiently remove any dust to avoid contamination since these vacuums have filters that are 99% efficient.

Aerospace: 

The aviation industry uses these vacuum units to neutralize air intake and material into the wet mixers' liquid bath. This also helps to prevent possible ignitions.
Ruwac Vacuums: The Right Solution
Let a Ruwac Vacuum be the solution for all your industrial vacuum cleaning requirements. While using these vacuums, you don't have to worry about the disruptive noise. You'll also notice a significant reduction in allergens since these systems extract dust, debris, and particles.
Ready to make this smart investment? Dawson-Macdonald offers Ruwac vacuums that manufacturers rely on in countless applications and industries. Whether you want an intrinsically safe vacuum cleaner or a cyclone vacuum system for dust removal in your unique space, we've got you covered. Contact Dawson-Macdonald for more details about our vacuum systems or request a quote for the different products we offer.